Guest Blog - How interior design can affect your productivity for your business
Posted on
Guest Blog - How interior design can affect your productivity in your business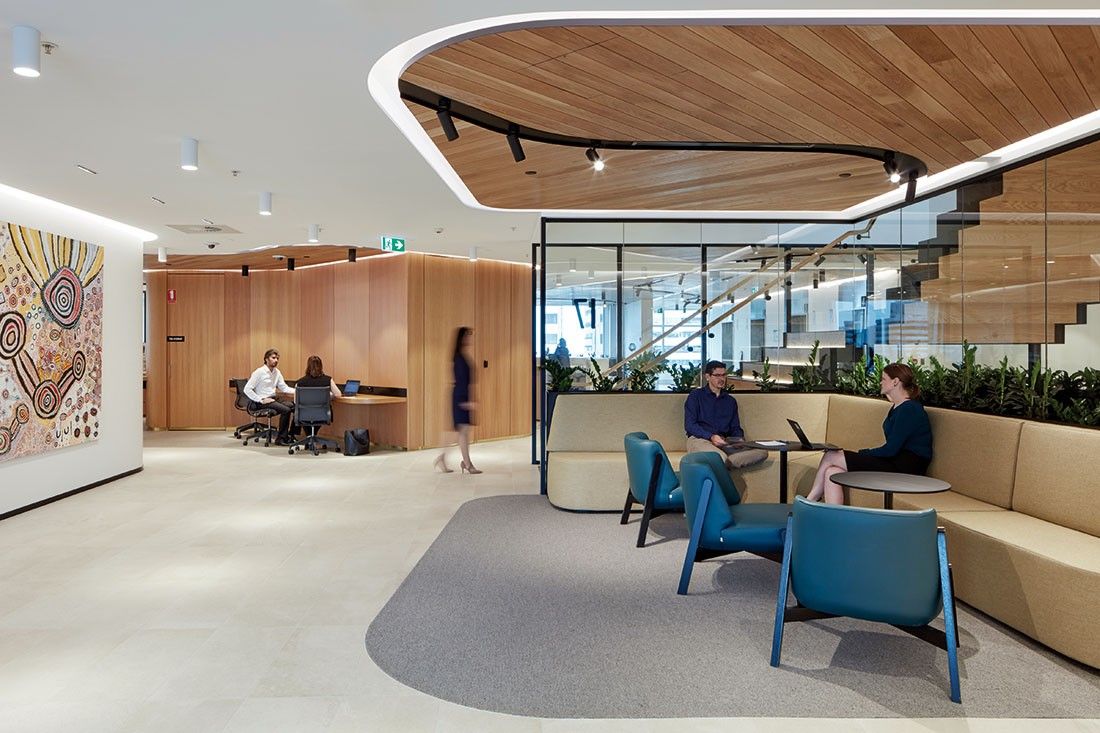 Whether we work in an office solo or with a large team, we all want a healthy, happy workspace. The modern office has gone through significant changes over the past 20 years. In the past decade, workplaces have seen a decline in cubicles and the rise of creative ideas on the office floor. While the trends keep on changing, the one thing that will remain permanent is the impact of the environment on the performance of an employee.
So how does interior design benefit office employees?
Companies have now realized the significance of office workplace design and are aware that interior design is more than just fabric and furniture! By incorporating the right office design, you can enhance employee experience and overall productivity.
Given employees spend almost 50% of their time at work, it's important to create an environment that fosters productivity and encourages engagement.
Examples of how good interior design promotes employee productivity in the workplace:
Promotes Human Interaction
Humans are social animals, so it is natural for us to follow our instincts and interact with our fellow colleagues. Interaction leads to a sense of community as we work towards finding a solution to the same problem, therefore meaningful interactions in the workplace allow us to work better and accomplish more.
Steve Jobs, for example, placed bathrooms on the middle floor of the Pixar headquarters in the hope of creating as many interactions between the employees as possible. A Norwegian company by the name of Telenor saw an increase of 20% in sales after they changed the placement of the coffee machine! Central staircases also create an area where people will interact, with large landings a good place to catch up and have a chat with colleagues.
2. Provides Natural Light
Humans need exposure to natural light in order to regulate mood, to experience feelings of happiness and to sleep well. A 2014 study found that workers in areas of the office without windows scored lower on quality life measures related to health problems and vitality. The workers that had none to little exposure to natural light slept on average 46 minutes less than those that had exposure. The study also found that workers without exposure to natural light had poorer outcomes in measures of sleep quality, sleep efficiency, sleep disruption and daytime dysfunction.
Good interior design will incorporate lots of natural light in the form of large windows and furniture placement to maximise exposure.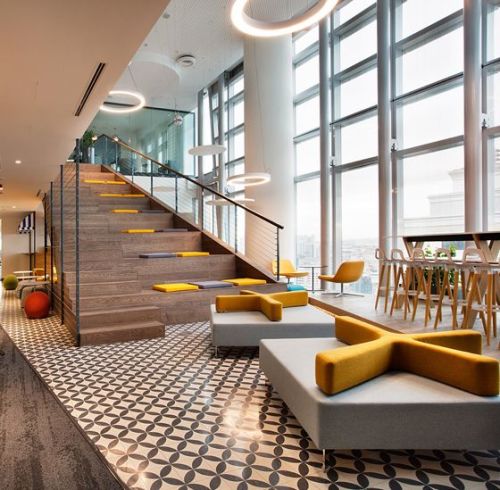 3. Gives pleasant distraction from work
A distraction at work isn't actually a bad thing. Especially not if the distraction is good interior design incorporating art. In fact, it's quite the opposite; the art and decor of a workspace can boost productivity.
Dr. Craig Knight, who has studied the psychology of workspaces for over 12 years at the University of Exeter says, "if you enrich a space people feel much happier and work better; a very good way of doing this is by using art".
According to a survey conducted by the Business Committee for the Arts, 82% of employees said art was important in the work environment, and 73% percent said their view of the company would change if the art were removed.
By eliciting positive emotions, stimulating ideas and giving employees something visually appealing to look at while they work, art can make a huge difference in employee satisfaction, wellbeing, and productivity. This is true for the overall interior design – offices don't need to be dowdy, grey spaces. They can be stimulating, fun and follow the company's brand through furniture and furnishings. Introducing breakout areas with comfy seating and a café culture is becoming more and more popular.
4. Inspires creativity
Creativity is important to any business, no matter what you do. It really just means 'new ideas' and interior design can create the environment to foster creative thinking
Good workplace design can reduce the strain on employees, freeing up their brains to do their thing, whilst properly designed spaces can enable collaboration, aiding the creative process.
How interior design can affect you as a small business owner.
As a small business it be really challenging when your office is also your home. The idllyic pictures of entrepreneuers working in their gardens and beautiful summer houses can be a far cry from the reality of trying to finsd space at the end of a dining table which is already home to a pile of ironing and the kids homework. Here are a few tips to creating a productive space for your small business at home:
Have a dedicated area

. However small, if you are wanting to take your business seriosuly then you should look to have a dedicated work space that allows you to store yoru important equipment and materials to run your business.

Minimise distractions

. If one of the reasons for having a home office is so that you can also look after the children and maintain the home then try to maintain an area that gives you the room to work, and then focus on your other responsibilities. Look into time management techniques such as time blocking that will help you to create routine and structure. Sometimes doing this can feel impossible because your children are very young or have additional needs, but finding dedicated time will allow you to be "in the moment" when you are focussing on tasks.

Clear the clutter

. You do not need to go fully Marie Kondo to achieve this, but find another place for the pile of ironing, and make the children clear away the homework (or your other half if they are sharing the space too). Consider everyone having a dedicated storage box to put their things in when their tasks are finished if you can't have a full on office to yourself. It's called making your own ideal and it can really work!
Provide something for yourself that will

lift the senses

. This could be an uplifting piece of art or a motivational quote poster; or it could be a scented reed diffuser that helps to calm your mind. These small gestures while you are working can make a real difference to your productiveity and motivation.
Andrea Bamforth is an experienced interior design consultant, and the owner of leading Cheshire interior studio Three Interiors Design. Specialising in creating authentic spaces for home and office, Andrea has a wealth of knowledge and skill in designing bespoke solutions for those looking for style and functionality.