What to think about when starting a website in 2020!
Posted on
Starting a website in 2020... What to think about and planning for success!
So it's 2020 and you've decided to sort out your online visibility and finally get a website. Maybe you've been selling on a shared platform for a while and are getting frustrated with the constant changes, fees and overall crowdedness. Or perhaps you want to start owning your
brand strategy
and want a corner of the internet that has your name written on it. Whatever your reason, taking the plunge to get your own website can be exciting but also really daunting!
When you start searching for
website designers
it can be even more off putting. A short google search or shout out in your networks and you quickly realise that there are a million people gagging to help and all promising the world (a jargon filled world no less). Prices vary more wildly than Prince Harry's behaviour from his 20s to his 30s and you can end up feeling quite marooned and wondering whether it is actually worth it!
Why you should have your own website
There are three main reasons you should have your own website versus operating on a shared platform:
You own it. At any point in time Etsy, Facebook, NuMonday, Folksy and Instagram could be shut down and you would have no platform to sell. With your own website you have the ownership of the domain and can choose your hosting provider/website provider.
You brand it. With the other platforms you have to conform to their rules when it comes to display, captions, selling rules etc. With your own website you can dictate the state of play (as long as its legally compliant). This gives you much more flexibility to demonstrate the power of your brand.
You control it. You don't have someone else making decisions if someone makes a dispute, and you control the information that you provide.
Planning your website for a successful set up
So if you have been considering your own website to increase sales of your products or services, then what do you need to think about to make sure it is set up for success? Here are my top tips for planning a successful website:
What is it's purpose? You need to have a clear purpose for your website and make sure that all decisions are based around it.
Who is your ideal client? You need to make sure that you plan your website to meet the needs of your ideal client.
Sitemap. Creating a sitemap which details the essential pages of your website and the customer journey is important for making sure you have all required information for someone to make a commitment to buying from you.
Content plan. Not just for building the initial site, but what does your ongoing content plan look like? Having up to date, relevant content on your pages is fundamental to SEO success and you should never consider your website as "done" - it's a dynamic marketing tool just like your social media profiles.
Imagery. Having the correct sized, well thought out and professional looking images is so important when planning your website. What you may be able to get away with on your social media you cannot get away with on your website because you will be competing against the big corporates. Make sure you incorporate your image plan into the mix when preparing for your own website.
Once you have thought about these elements you then face the conundrum - do I/could I build it myself or should I get someone to do it for me?
Web Designer vs Self Build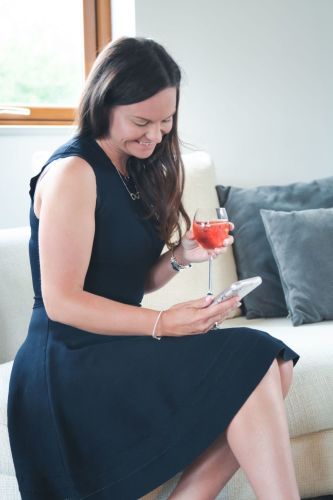 You would expect me to plug my own services here and it would be remiss of me not to say that a core element of my offer here at Worsley Creative lies in crafting
stylish web design solutions for ambitious entrepreneurs
, but I'm also really honest and will tell people when my services are not for them or if I won't be able to add value to their business.
Don't just choose on budget
When making the decision as to whether you should look at self build options or invest in a website designer then you should think about the following things:
Time
Budget
Inclination/Talent/Skill
Websites take time to build
Building your own website takes time. If you've been seduced by the GoDaddy promise of "build your own website in an hour" then you've probably found yourself bitterly disappointed that to build something decent takes a LOT more time than that. As a designer I spend 50-100+ hours on curating and creating the right design for my clients depending on the requirements, functionality and content of the pages to be built. If you are looking to build yourself then make sure you are aware of the time it is going to take you (particularly if you are writing your own content too).
Websites cost money - even if people tell you they are cheap
There is a phrase that I love when someone asks about a "cheap website" and that is "good isn't always cheap, and cheap isn't always good!"
Establish the budget that you have for your website build and this will determine whether you can afford a designer or whether a self build option is for you. There are loads of self taught web designers that offer very cheap services and you can sometimes grab yourself a bargain when a new designer is looking to build their portfolio. Be sure to understand their ways of working and see examples of their work before committing (check out this post on
how to choose a web designer
for a more detailed look).
If your budget doesn't run to even the cheapest of web designers then the self build option is the best option, and as long as you carefully plan and put the time in, you can achieve incredible results with your own build. Platforms I'm always happy to endorse for "easy" self builds are
Create
,
Squarespace
and
Wordpress
. The first two are drag and drop providers where you can build your site in blocks; whereas Wordpress doesn't have this functionality on its own. You can purchase themes however and there are a wealth of them to choose from (take a look on Pinterest for inspiration). The thing to remember with any website is that there will be ongoing costs. Domains cost money to renew and hosting needs to be purchased either on a monthly or annual subscription.
Websites need design and copywriting skills
If you don't have an eye for design, or you are not able to put things into words that you want to convey that will engage your ideal client, then you should consider outsourcing to prevent compromising your brand. Even the best templates can't create your businesses brand voice and story, and it is so important that you create these with your online presence so that as a
small business you stand out against your competitors in 2020
.
Don't be afraid to outsource elements which you are not good at. People are happy to go to a hairdresser because they aren't skilled at cutting their own hair, it should be the same for anything you don't have the skill for!
Where are you on your website build journey? Is 2020 going to be the year that you corner your own little part of the internet and start boosting your
online visibility
? It would be fab to know whether you are thinking about the designer or self build route...
_____________