How a month of little amazings can change your life...
Posted on
How a month of little amazings can change your life...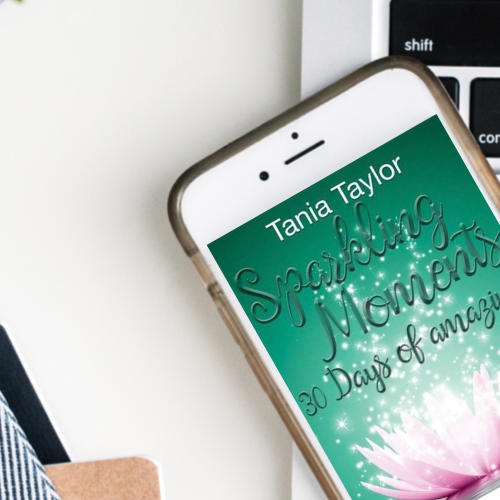 Being a business owner/Mum/partner/employee/friend/relative can mean we as women wear many hats; and can be required to care about so many and so much all the time that the concept of self care resembles a remote fantasy rather than regular reality.
As a sufferer of achievement addiction I am very guilty of putting my own emotional needs to the back of the queue in the pursuit of making other people happy - and to be honest I find quite a lot of self help books daunting in how "deep" they want to go. So when I was asked to review a new book designed to help boost your feel good hormones I have to be honest I volunteered with some trepidation. Would this be another attempt to delve deep into my psyche and "fix" me?
Tania Taylor's Sparkling Moments, 30 Days to Amazing has been published by the
MIBA
* publishing team which has written best selling titles including
Rise of the Mumpreneur
. The book promises to give "creative ideas for putting a bit of amazing back into your life" and it actually delivers on its pledge! The daily insights are both thought provoking and poignant without being overwhelming; I was particularly inspired by the the planning day with the recommendation to call a friend - it prompted me to reach out to an old colleague and friend and we had the most wonderful conversation. I can't tell you how much this little act gave me as a boost; being so busy I have let far too many relationships fall by the wayside, and this simple act of positive action made a real difference to me. In fact, as a result of implementing some of the daily tasks I have found myself coping better with stress, being more proactive with relationships and I'm being nicer (not something I always achieve!) A month of little amazings could actually change your life, and I love how Tania has made it so manageable.
If you are looking for a book which is going to give you deep daily prompts then this is not the guide for you - this is a lighter and more refreshing approach which I am for one a fan of - I have tried and failed to read too many "self-care" books which disengage me with jargon and expect me to move mountains - I'm like seriously Susan I've barely got time to shower let alone find 2 hours to meditate and manifest and all that jazz! Tania's book is a welcome tonic to those heavy tomes, and I would highly recommend it for anyone that wants to give themselves a boost, or to gift it to someone who needs a positivity injection in their lives!
This is an honest and unsolicited review of the guide, I have not been paid or endorsed to provide this review and it comes genuinely from my experience of reading and implementing the tasks. As an
online visibility
specialist and
branding expert
I am not only passionate about authenticity and being a genuine support to entrepreneurs who are looking to level up in their business; I think this book can really support an entrepreneur on their journey to develop their personal brand and what they actually stand for. I would happily state that this book can be a real boost to those that need a little bit of amazing every day to change their life.
Tania Taylor - Sparkling Moments, 30 Days to Amazing is available on
Amazon
as an e-book and paperback from the 11th December.
*MIBA is a leading female entrepreneur group which was founded by sisters Estelle and Leona. Launched less than two years ago, it now has over 45,000 members and provides support, training and networking opportunities to help Mums in Business.
___________