Problem Solving for Small Business in 2020
Posted on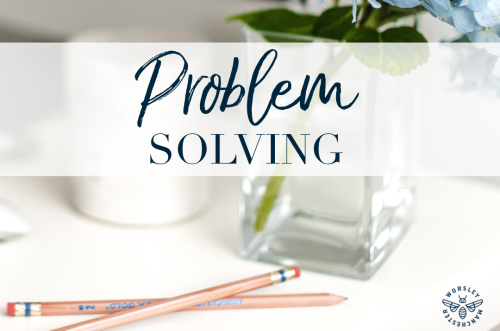 Problem Solving for Small Business in 2020
We've all been there - we can't see the wood for the trees. There's a huge problem in the way and it's literally paralysing any success that we can see ahead of us.
With so many businesses starting up and looking to compete in saturated market places, how can an entrepreneur navigate through problems in 2020 to find solutions and business success? It can feel like a minefield, and it can be debilitating to the point where entering back into the corporate world; or giving up on the goal of making the side hustle your full time gig a reality.
I can tell you first hand that I have been there - and as someone that did have to give up on the idea of making my side hustle a full time gig I can tell you that if I had had someone who could help me navigate the problems I know I could have made it a success.
So, to be a great problem solver as a small business in 2020 here's a system that you can implement that actually works:
1.Identify the real problem!
Properly understand the problem. By this I don't mean "not enough sales" or "high costs" you need to really drill down to the root cause of the issue. If you are not getting enough sales then you need to explore the reasons why to understand what the actual issue is so that you can make the right changes to overcome the issue. Examples could be quality, service, message consistency or pure visibility. You may need to get external input to really understand the problem - and that sort of feedback can be painful! You have to prepare yourself for brutal honesty and if you can't take that honesty then maybe the root problem is something else... In 2020 there are a whole wealth of opportunities to get independent input for free via social media and the web. You just need to be brave enough to ask for it...
2. Brainstorm the solutions...
Once you've established what the root cause of the problem is you need to map out what options there are to address the issue. Every potential solution should be tabled here, however bonkers or expensive. This process can actually be quite liberating because you can feel like their are options for you (even if you then have to discount several of them for various reasons).
3. Analyse the options...
Now you need to analyse what the best option is to address the problem. By this I mean the best option considering your ability as much as the best option to address the issue. The answer to the solution could be a £10k google ad campaign but if you don't have the budget for that then the option needs to be discounted. Here's the kicker though - don't be naive and think that throwing money at an issue will solve it. If the issue is that your brand is not on point or your product/service doesn't deliver the right level of quality or aesthetic then spending money on it without addressing that will not get you results, it will get you a big bill - or even worse, debt. Analyse all options against your abilities in terms of time, skill and budget. There's also another important one to assess the options by - your desire to do it. If you don't want to make the change then it's not going to happen. You may make some half cocked attempt but it won't work.
4. Plan out how to actually fix the issue!
So you've done the work to understand the root problem, you've brainstormed solutions and you've spent time analysing which option is going to best solve the problem for you. The next stage is to plan out the implementation of the solution. This is so important because if you don't plan it out right to ensure it's implemented in the right timescales or utilising the right resources it again could fail. The idea of implementing a process to problem solving is that you reduce your risk of failure so don't blow it up by getting gung ho with your implementation. If for example fixing your website is the root cause of the problem then you need to make sure you create an effective plan for what you are updating, when you are updating it and how you are making the changes so that you can actually see the results.
5. Review the results - dont just hope for the best...
The last part of the process is to review - and keep reviewing. Problems are not always solved overnight - and looking for quick fixes typically causes more issues in the long run. Measure the impact of the changes you have made and then keep tweaking. If you don't see results then you may need to go back to stage one because perhaps you didn't actually get to the root of the problem.
So that's my system for problem solving as a small business. It may seem laborious but not all problems need to use this approach! This is for those big rocks that are keeping you awake at night; the issues that are stopping you from making 2020 your year.
What approach do you use for problem solving currently? Sometimes it's easy to just let the problems take over when we need to step back and take a minute...
Pamela Rae-Welsh is a leading branding and online visibility specialist based in Manchester and Oxfordshire. Supporting small businesses with their SEO, CRO and creating a stylish brand presence across digital platforms, Pamela is passionate about helping entrepreneurs to create stunning websites and brand identities.