Is fear holding you back?
Posted on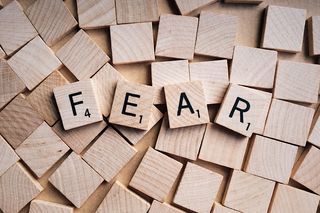 If you had no knowledge of what failure felt like, or knew the consequence of failure was nil; or even if you knew failure was actually impossible - what would you achieve?
This week I launched my book club within the SEO membership group and it has been a powerful start to what was meant to be a small supplement to an already burgeoning programme of entrepreneurial support! We have started with Robert Kelsey's What's Stopping You? The powerful insight into fear of failure and the impact this can have on life and career choices has really resonated with my members and I have definitely had a light bulb moment with some of his explanations around past trauma and how it can affect future decision making. I have become a hyper productive procrastinator if there could be such a term - addicted to achievement to show the naysayers and the haters that I can do things and I can be successful. I procrastinate on the real goals whilst being over productive on things I know I can do. I have become aware that the hamster wheel I'm on is spinning at an increasing rate however which I am now trying to address before I fall off! However this blog post is not meant to be about me...
We all want to be successful, don't we? We all want to achieve something - it's in our nature. The reason why may be very different, and the goals may be very different, but as humans we are programmed to complete tasks and the endorphins released from the completion of tasks then inspire in us to complete more. I won't go into a long section about science (mainly because I will probably get it wrong, and also because it's a bit boring) but suffice to say that we as a species like to get stuff done. But we are also programmed to put survival above everything. So when we have a trauma or something that affects us profoundly, it is highly likely that we will want to try and either avoid the situation from happening again or minimise the impact of the failure.
I see so often with small businesses the owner giving up and going back to a full time paid job because they couldn't make it "work" and this really frustrates me because we all have the ability to make it work, it just takes a lot of time, effort, and dare I say it - facing the fear and doing it anyway! I wrote an earlier blog piece on how to avoid business failure which gave tips on what to focus on to avoid the pitfalls of being in the 95% of small businesses that fail. It had a great response from people and I thought yes! Eureka! I'm going to start seeing some fab actions from people to get traction on their websites, and their branding, and their business plans. Yet despite the positive reactions, the procrastination has continued... which got me thinking that something else must be holding people back, and perhaps it could be the fear of failure (even if you don't think it is). So here a few things for my procrastinating readers out there to think about:
People say no everyday. Just because the first few people you have asked have said no does not mean that you and your business are not good enough. It means you haven't asked the right person yet. Make a list of your key targets, and then a secondary list. If you believe in your product or service then you need to take it to the right audience. Are you targeting the right audience?
What is the worst that can happen? When I'm doing something out of my comfort zone I do what I call a "Terminal Tara" on it and look at the worst case scenario. It seems a bit of an odd approach, but the reason I do it is so I can think about the mitigations and steps I can put in place to ensure that the worst case never happens. It has a double positive effect because the additional steps I put in reinforce the positive outcome which was going to happen anyway. Try the Terminal Tara approach - it is a game changer for me!
Sit down and actually review your business. If you can't bring yourself to do it alone, why not think about investing in coaching sessions where someone like me can help you to do it? My Dad always laughed at people in the street who looked lost and were searching maps, furtively looking up then around them (I'm showing my age now and pre mobile phone google map childhood!) and I once asked him why he laughed. He chuckled and said "How can they know where they are going when they don't know where they are?" - this is so true! You need to be able to see where you are to be able to plan for success in the future.
Be honest with yourself. Have you really put the time and effort into being visible? Or have you signed up to lots of things to increase your visibility and improve your business but not actually implemented any of the actions? Is it because you think they won't work? They definitely won't work if you don't try them!
Is your brand representing you and your business to your ideal client effectively? Does your social media match your website and your overall marketing, or is there a mismatch? Have you gone deep into understanding your ideal client and their needs and then branded yourself accordingly or have you just bought yourself a pretty logo and a self build website and then expecting people to pay ££££ for your products and services? You want to charge your worth but maybe your brand is not at the right level. It could be why your number of No's are disproportionate to your successes - and it is something you may need to address if you truly want to make it work.
So there are five points to think about, but the most important thing to think about is this. Do you actually want to be successful? Or do you want to be one of the 95% that valiantly gave it a go? There's no shame in either, but you can save yourself a whole world of pain and wasted time if you work out now whether you are going to go all in... or take a different direction.
Let me know what you think may be holding you back...
Pamela Rae-Welsh is the owner and founder of Worsley Creative Services, specialising in online visbility, web design and brand styling based in Manchester.