Why small businesses don't need Instagram anymore...
Posted on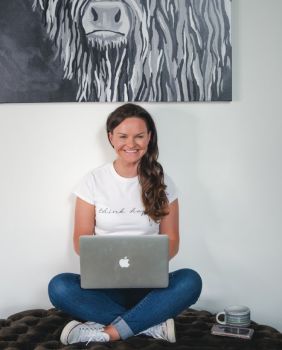 I was asked by someone this week who wanted to grow their business how they could get more people seeing their business online via Instagram. "The algorithms are all against me" they wailed (I'm so weary of the word algorithm now, I mean it's as much a part of a small businesses vocabulary as stock or sales, and its tiresome) "and I just get no engagement whatsoever on my posts". I started to go down my normal track of giving advice given on my previous blogs with Instagram - tips on imagery, captions, hashtags, and then I stopped. Because something dawned on me that is the biggest piece of advice that I can give to all of the small businesses that have relied on Instagram as a way to grow their business - you need to move to Pinterest.
If Instagram was the new Facebook, then Pinterest is the new Instagram for businesses, and here's three reasons why:
Pinterest allows you to push content.
Pinterest allows you to be discoverable through keyword descriptions – you don't need a magic wand with hashtags.
Pinterest allows you to directly link to your website.
People loved Instagram because they could PUSH content out and it would be seen and liked. Now that Instagram is gearing towards being more social and community led Pinterest is the platform that you should use because it allows you to push out content and you don't need to interact with the users. Hashtags allowed people to get their new content to be seen on Instagram, but they are now so saturated that it is very hard to get seen using them (unless you get magically teleported onto the Discover page).
On Pinterest you don't need hashtags to get your content seen – you just need to use great descriptions with your niche keywords. The other thing with Instagram that is really frustrating is that you can't link directly to anything within a post (you can via stories, but only if you have more than 10k followers which is really unfair for small and start-up businesses!). Pinterest actively encourages you to link to further detail on your posts and you can send them to areas of your website not just your homepage or landing page which is great for on-page SEO… and we all want a little bit of that visibility magic don't we?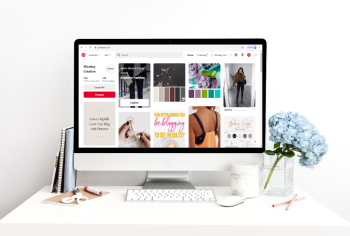 So if Pinterest is the best platform for business how can you make it work for you? Here's my top five tips for getting you more visible with the giant electronic scrapbook:
1. Use story posts! This is a new feature from Pinterest which allows you to use up to 20 images which can all have their own captions and links to your website. This is amazing for showing a customer journey, or a work in progress or a full range of your products. For more info on how Pinterest stories can work for you, Becca Poutney's blog post has some great insights.

2. Join collaborative boards. This can really propel your reach and get you more visibility. There are literally thousands of group boards to join and here is a great link with a list of the top 400 for creative businesses which was created by To Be A Perfect Mother.
3. Don't just pin your own stuff! Re-Pin other people's work into your boards as well so that you build up content rich boards for your niche. A ratio of 1 post in 4 being your own is a good start. BrambleSky have great examples of this.
4. Don't pin rubbish photos. Just don't. Poor lighting, photos taken with a lacy tablecloth, photos taken with your dinner in the background. Please just stop. Stop using poor photo editing apps that add crappy text over your images. I know this sounds harsh - but please stop. It doesn't look good and you will not get good reach for your pins anyway. This is one of my biggest challenges – trying to give people feedback on why they are not attracting their ideal client when they are taking photos in their Aunt Muriel's kitchen "but its ok because I used a nice white sheet as a backdrop". I get that not everyone is David Bailey (I do not profess to be a great photographer either) but there are loads of free videos, tutorials and even courses on how to take good pictures from your phone. Search for it in Pinterest and you will see!
5. Use mentions! We all love to get a mention on social media - you know that heady feeling when you've been tagged by another business and credited for all your hard work? Well you can do that with Pinterest too! Just use the @ button like you would on Facebook or Instagram.
Have you got yourself into the groove with Pinterest yet? It can literally be a game changer for your business. I'm still really amateur at it but I'm determined to get better - why not join me? Here's my Pinterest link - https://www.pinterest.co.uk/WorsleyCreative/ Give me a follow and I'll follow back!
Let me know your experience with Pinterest and if you think it could be the new Instagram for you... and then we can start talking about how TikTok is the new everything... Lol
Pamela Rae-Welsh is the founder of Worsley Creative Services Ltd. Specialising in web design, brand styling and online visibility, Pamela has already helped over 100 businesses with developing their online presence in 2019.