Procrastination killed the entrenpreneur...
Posted on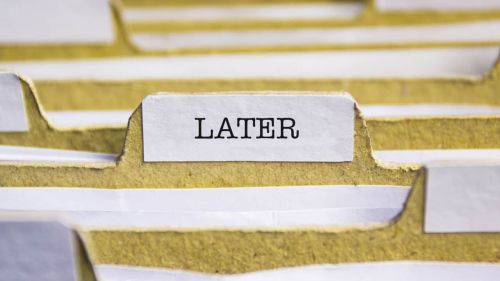 You know what you should be doing and you've got the tools and resources to do it. Yet that task sits there on the to do list like a cat at a closed front door, waiting for something to happen.
Procrastination is one of the biggest causes of failure amongst entrepreneurs and it is mainly driven by fear - fear of failure, of rejection, or even success. Some tasks are put off because you know it will unlock something special and you don't feel ready for it. Sound familiar?

Fear of failure and rejection are heart breaking reasons to put things off when you know they will have a positive impact on your business. I used to be crippled by fear. My personality seeks approval at all times and I am an annoying perfectionist. I have managed to overcome procrastination though - and I want to share a tip with you on how to overcome it. Take the task or project you've been putting off; look at the scenario and what the best outcome possible could be and write it down. Do this first. The best outcome from doing this task is xxx. Then look at what a reasonable outcome would look like and write it down. Then what the worse outcome could be. Write it down. Then under the three headings write the points that you can do to either increase their likelihood or mitigate their impact (in the worse case scenario). Don't look now but you are making a plan - and it will be one you go into with eyes wide open.

The truth is there just isn't time for you to procrastinate and stay stagnant with your business. A new website is created every 8 minutes and there are over 2 million more businesses in the UK than the year 2000*. Competition is rife, and free access to social media with limited regulation has meant that there are now a lot more entrants to your field. You don't have the luxury of having barriers to market in the same way that businesses could be protected from in the 90s. The reality is someone can have a legitimate business set up in under 48 hours and be trading - so you have to be on your game, showing up every day.

What is key to remember is what makes you you - and what will make you one of the few businesses that stands the test of time (currently 95% of all new start ups fail in their first year). Here's a few things to think about:

People buy from people. You are not Amazon and you should not try to be. Look to attract your ideal audience, engage with them and get them to understand your value and build trust in your brand. Trust makes up over 50% of the human emotions associated with making a purchasing decision. Do people trust you and your business or do they not know about you because you are not making yourself visible?

Know that you are your brand. Your tone of voice, be that verbal, physical or digital is the voice of your business and you need to be true to yourself and your brand if you are going to succeed. Imitating others or copying their style because you think it's trendier or more successful will look and sound inauthentic and people won't buy from you. Trust me, they are only showing you the highlight reel anyway. Everyone is challenged on their business, it's as Gary Vee says - some are just better at hiding it than others.

Do what you are good at and get others to do what you are not good at. If you suck at SEO then get help - if you can't manage your books for toffee (like me!!) then get yourself some support. "I just can't afford it!" I hear you cry. Well hear this - if you can't afford to invest in the essential infrastructure of your business then you need to revisit your business plan (or perhaps that's the problem that you haven't got a valid plan?!). Just because you like making stuff and being creative does not make buying more stock (that you are not selling because you are not good at marketing) a bigger priority. I've seen loads of small businesses fail because they keep trying to introduce new things rather than focussing on the things that do sell and doing it well. I've also seen some awful attempts at trying to be a jack of all trades because "I can't afford it" and it undermines the quality and authenticity of the brand which results in it failing to thrive.

Find an accountability buddy or mentor that is going to challenge your procrastination. Someone you know and trust but do not love. This person needs to be able to push your buttons and you listen. They should not become your agony aunt, but they should be able to give you the nudge you need to finally get that branding sorted (or whatever task you've been procrastinating about).

Give it time. We live in a world where everyone expects to be an overnight sensation and believe me in 99.9% of cases this just isn't possible! Starting and growing a successful business with a strong brand identity and prevalent online presence takes time and it takes hard graft. Worsley Creative is not even one yet and I know I have such a long way to go to get it seen as an established business consultancy and design studio. I'm not for quitting any time soon though (even though an easier life does call to me sometimes because I'm flipping human and get exhausted and emotional sometimes too).

So in summary - its time to get shit done. What have you been putting off that you know you really should tackle?!
Pamela Rae-Welsh is the owner and founder of Worsley Creative, a digital design studio based in Greater Manchester. Specialising in online visibility and branding, Pamela has helped over 50 businesses with improving their online presence and brand identity.