Instagram, oh Instagram - where art thou?
Posted on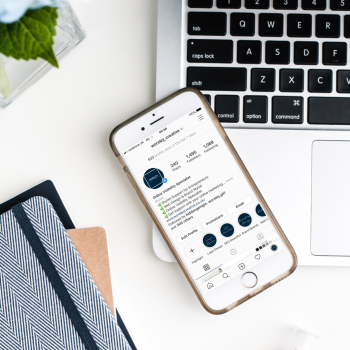 Since around mid-June Instagram has become a seemingly empty room for small businesses.
Like counts have plummeted, reach is stagnating and follower counts have been up and down like a yo-yo.
The important thing to note is that you are not alone! Everyone is experiencing the same issues and there is some light at the end of the tunnel. Also - it's not just Instagram that has changed, you may need to look in the mirror a bit too...
Instagram Changes
In the same way that a few years ago Facebook clocked onto the fact that businesses were being established and grown across its platform and they weren't getting any of the pie, Instagram have also realised that they have a serious monetising opportunity. They want you to pay to be seen and the introduction of ads in stories and the explore page go even further into the realm of augmenting the user experience toward paid content.
Instagram have a real issue with fake accounts, spam, automated bots and dormant profiles. In the last few weeks they have cleared out millions of these types of accounts - which is actually good news for us because it means the engagement we do get is genuine. I mean we all love @roberto.56 giving us a cool dude emoji on our latest post but he's not likely to be buying from us anytime soon is he?!
The latest algorithm update is designed to identify exactly what users have been searching for or interacting with and then showing them more content like that in the hope that they will stay on the platform longer (giving Instagram more chances to show them ads). People are then more drawn to the explore page and the stories tab rather than their actual feed - meaning you may get less likes (but it doesn't necessarily mean your audience loves you less).
IGTV is not the raving hit they thought it was going to be and they are trying to ignite engagement with it - and as such are trialling it being in different locations in peoples profiles and being a dominant area of the explore page. There is more news on this to come I reckon...
Instagram is taking its "responsibility" for peoples mental wellbeing seriously by adding in more features to be social and build communities on the platform. The new chat button on stories is an interesting addition and could be a good opportunity for small businesses to engage with parts of their audience for Q&A sessions etc.
Your Instagram Profile
So that's the instagram side of it. Now to flip the mirror and do a bit of self reflection. Here are 5 reasons why your Instagram account may not be growing:
You are not making your profile and imagery high quality enough. Truth bomb - dark, blurry, or poorly laid out images will not be appealing to new audiences. A poorly constructed profile won't entice your potential audience to follow you. Instagram is a visual platform whether we like it or not and images need to be eye catching to the audience. Instagram wants to give new content to users at all times - so reusing images is not good for your engagement strategy.
You are not being social. Just pushing out content and expecting your audience to grow just wont work. You need to engage with accounts and be seen interacting on the platform to get growth.
You are not making yourself discoverable. I keep banging the drum but using the same hashtags over and over again means you are being seen by the same people over and over again. Not using all 30 hashtags could be another reason - you are not giving yourself enough chances to be seen.
You are not being authentic. If you are not showing up as your true self or if your work does not look original - with overly styled images or images which look the same as all your competitors accounts it's unlikely you'll be seeing huge growth. Similarly if your captions are just marketing pitches then you are not likely to grow. Where are you adding value to your audience? Where are you building trust for them?
You are not being consistent. Are you posting 5 times a day one day and then not seen for a week? Does your feed look all over the place? This will confuse your audience and you may lose followers.
So now you are thinking - Whoa ok - then what can I do about it?
Clean up your feed. Archive or delete old images which don't represent your brand or are poor quality. Take a look at your bio and make it appeal to your ideal audience. Invest time in your photos. Make sure they are high quality and will appeal to your ideal audience.
Start being social! Interact with accounts, be curious about hashtags and go exploring. Don't think just because your ideal client is a bride for example that you need to just look at those type of hashtags - why not spend time interacting with wedding venues - you never know they may even feature you!
Change up your hashtags. Hashtags are the search engine of instagram!! Challenge yourself to do a post which uses 30 completely different hashtags to what you have been using. Research what hashtags are trending or growing right now. Stop using hashtags which have gigantic usage because they won't be seen (#Love for example is used every 0.5 seconds on instagram - using it is not going to get you on the explore page)
Add value to your audience!! This is more likely to make them tag people and start discussions or engage with you. Show your audience that you have what they need without selling to them. Everyone loves a bit of free champagne too so think about what you can give to your audience (checklists, recipes, top tips for example)
Show up and don't give up. If am engagement strategy doesn't work, then dust yourself off and give something else a go! We are all on a journey with social media and as soon as you think you've nailed it - they change the algorithm again! Keep learning and most importantly try and have fun on the platform!
What is your biggest challenge with instagram and what do you think you need to do to address it?
For advice, inspiration and tutorials on social media and online visibility check out the
SEO Beautiful
Membership club which has daily support for small businesses!