Being content with your content...
Posted on
Are you content with the use of your content?
We have all been there - staring at a blank screen wondering where the next spark of inspiration will come from to produce that winning piece of content that will bring in your ideal clients and have them falling over themselves to buy/book/sign up with you. It can be like watching paint dry. Or worse, it can be like watching the Sky planner screen - you know, when you keep scrolling through reams of programmes but nothing takes your fancy or gives you that jolt of excitement. It can feel like you've tried it all before and you have nothing new to say, but you must say something new because that's what the internet and social media want nowadays isn't it?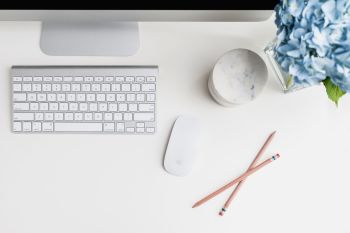 Producing compelling content which engages your audience, provokes an emotional reaction and leaves a brand impression can feel like an overwhelming task. So here are a few pointers about how to get round the hamster wheel of creating good stuff continuously:
Be boring. Planning what content you intend to post to various platforms and blogs is not as exciting as working on the other parts of your business, but having a planner allows you to be consistent, not be repetitive and gives you structure.
Re-purpose. Did you write a great blog last month? Take a snippet from it and make it a social media post. Did you write a great social media post that got lots of interaction? Look at why it got the interaction and expand it to a blog post, or chunk down its components to make several more posts.
Go Deep. What problem are you solving or desire are you satisfying? Make a list of the questions that your ideal client will be asking and then schedule content to truly answer them. For example, you work as a photographer for family portraiture. Your ideal client wants to satisfy the desire of having everlasting memories of a particular point in their lives. You can satisfy the desire of providing this for them, and showing beautiful previous examples. Going deep however would be to solve the problem of fear - fear the shoot won't capture the essence of what they are looking for; fear that the setting won't be right; fear that poor Ben will have the chicken pox and look a fright in all the pictures. That's where you go deep - and you can show in your posts how you not only satisfy a desire but you solve a problem (the fear it won't be perfect) at the same time.
Snip-It. All too often people give too much away in just one post. Think about chunking it up and having a series of posts/blogs that essentially produces your own campaign on a particular topic! A great example of someone who uses this technique is Joe Wicks. People are time poor, so actually having small bite size snippets of content will make them want more. Be careful that the snippet has purpose and meaning however - which brings me back to point 1!
Beg, borrow, steal. Do not be afraid to ask others to do guest features on your blog or social media - it can really change things up for you and engage your audience on a different level. Instagram takeovers are not just for major influencers. If you work in the food gifting industry why not ask a local or small food producer to do a guest post or blog? They are in the same boat as you and will appreciate the collaboration. Borrow concepts - and by this I'm not talking about product ideas, I'm referring to content ideas from accounts which inspire you. Find a way to credit the inspiration too if you can when you write about your own experience or put your own take on it. Never, ever, ever steal - unless it's one thing. Stealing ideas, concepts or content is not just fraudulent, it's downright ugly and disingenuous. You will look like a charlatan and not be your true self which then makes selling your product or service even harder. The only thing you should steal when it comes to content is - TIME. Steal time from the other areas of your business to invest in all of the points above. It will pay dividends for you.
If the concept of content is still daunting when thinking about the above points, you always have the opportunity to outsource it. There are some fantastic VAs, Social Media Managers and
Content Copywriters
out there, but be mindful of choosing someone that can speak in the voice of you and your business. Look carefully at what services they provide and the examples of work in their portfolio. You will need to find a brand fit that will represent the real you and your business as closely as possible. However, be mindful that it will never be the same as it coming from yourself. As
Dr Suess
says - "Today you are you, that is truer than true. There is no one alive that is you-er than you"