What I learnt from a bust baby business....
Posted on
Back in 2015 I started a baby and children's business that sold hand knitted baby clothes, luxury toys and gifts. I loved it - sourcing the products, building the
website
, designing the marketing materials. I went out to the world with gusto - posting on social media and attending baby shows and markets. I grew a Facebook page quite quickly to 5000 likes and had the start of an instagram following... It was all there, or so I thought. I got sales (when I did offers), I got likes (when I did giveaways) and I got great feedback on the quality of my products (but they didn't buy them).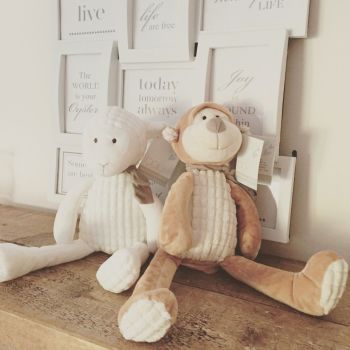 A year of slogging away, a small fortune blown on stock, and I had reached burnout. The sales were not enough for me to pack in my day job, the number of competitors I perceived there to be (I thought I could never get myself number one on google) was overwhelming and I was getting into debt. So I made the horrible decision to close it - telling my page followers that I had to give priority to my day job. This was partly true as I had been given a promotion, but the true reason is that it wasn't viable the way I was operating it, and at the time I didn't have the knowledge and experience to change it. Or, to be frank about it, the emotional intelligence to recognise the need to change it. I was arrogant in thinking that I had done everything right, and it was the awful Amazon dominating the world and Facebook algorithms that were the main reason my business wasn't a runaway success. When in fact, there were fundamental flaws in my operating model that I can share now in the hope they can inspire you to review your own business and make changes to improve its chances of success, and they all centre around knowing your ideal client and branding yourself accordingly.
Brainstorm your ideal client. Who is it that you want to buy from you and what will be their motivation. Are you solving a problem or satisfying a desire (I sound like a broken record over solving vs satisfying over on my SEO membership group!)
Brand yourself to your ideal client! I wanted to appeal to middle class Mums but I ordered vistaprint business cards and leaflets which I built from standard templates rather than use my actual design skills (ummm what was I thinking?!). To my ideal client I looked cheap, even if my products didn't. I didn't do them justice. I'm not saying that vistaprint only do cheap stuff by the way - I am saying that you need to brand yourself to your ideal client.
Know where your ideal client is! Instead of marketing to NCT groups, and baby classes groups I advertised in Facebook selling groups. I immediately faced pressure on my pricing as I was deemed to be expensive - I was advertising to cost conscious Mums as opposed to my ideal client. The result - I only made decent sales when I discounted them, and I wasn't making enough margin for this to be a viable business model.
Invest in ideal client led SEO. I never took time to actually think about what my branded keywords were so my website didn't have content that would appeal to my ideal client. I didn't spend time on alt tags, meta descriptions or creating good links. I was lazy if I'm honest - thinking the Kevin Costner mentality would work "if you build it, he will come" (sorry for anyone too young to get this quote).
Invest in ideal client led imagery. When I launched I used stock photos, and photos taken from my spare room. When I took them I thought they looked artistic and cute. In fact they were poor quality and didn't appeal to my ideal client at all. Not everyone can afford a professional photo shoot, and sometimes it's not realistic to always have professional shoots if your product range is constantly changing, but you can invest in a decent camera (phone cameras even have bloody AI technology now) and you can invest in free and low cost photography courses. I would always recommend saving funds to invest in at least one professional shoot - and there are some incredible photographers out there that don't break the bank.
Network with your ideal clients. If you want to sell to them, you need to engage with them so you can always know what you can sell them!! Get yourself in social groups and talk. I made the mistake of only joining handmade and crafter groups, whereas I should have been targeting where Mums looking to shop or be inspired were.
Relates to the above but is a word of caution - you have to be authentic. If you are not able to communicate on the same level as your ideal client, you will look unauthentic and a bit like an idiot. I once saw a "posh yummy mummy" who had started a similar business to mine trying to "get down with the kids" in her whole approach. It was actually laughable. I still just did a chuckle at how ridiculous she came across - but we all make mistakes!!
Again related to the last two points - you are your brand. How you communicate, your tone of voice, your choice of language, your appearance, even where you hang out - that is your brand. It's not just marketing materials. I've seen a lot of entrepreneurs wondering why their businesses aren't going well and then look at their social media profiles, where they have either put too much personal stuff which is not on the level of their ideal client on their business pages or even worse they use their business like their personal page and vice versa. It's business suicide, and actually can cost you friendships if you are constantly spamming your friends with your business news on your social media profiles.
Review your brand and your ideal client regularly as they can evolve and if you don't adjust the sails on the boat then your business can be very quickly headed in the wrong direction, or perhaps even worse you can miss out on big opportunities because you haven't had your "head above the parapet". A great idea is to find a friend or mentor that you can bounce ideas off and that will give you honest and regular feedback. With my new business this is one of the biggest things I have taken on board, and I have a few carefully chosen in my "inner circle" that I trust implicitly (even if they are brutal at times).
(Not ideal client related) Do your sums, and if you are not good at sums get someone to help you that is. If you want your business to become your sole source of income, don't treat it like it's your child and make emotional decisions on it. Treat it like it's an entity that needs to be managed. I'm not saying that you can't love your business like it's your child, but you can't indulge your business like one because like anything that is spoilt it won't behave or do what you want it to do - it will just become a pain in the neck.
There's probably so many more lessons to share - what would your piece of advice be to someone in business to help them avoid pitfalls or failure...