9 Must-Know Tips to Boost Your Website Conversion Rate
Posted on
If you run a website, you will hear words like 'website conversion rate'. Once considered jargon, they have become widely used terms in the digital age.
Conversion rate is the number of visitors on a website performing the desired action. It can be someone filling in an information form, sharing your post on social media, or an outright sale. Your website's conversion rate is critical for its success.
The internet can be tricky and you need to have a strong online presence. You must stay aware of the ongoing trends and apply the latest strategies to enhance your website's conversion rate. Moreover, the competition in the business world is intense.
Let's learn more about different ways that can help you boost your website conversion rate:
1. Add Meaningful Photos
Audiences do not like to read long texts devoid of any colors. Images add life to the dull content.
However, you need to be vigilant when incorporating photos into your webpage. Check the relevancy of the image and ensure that the photos align well with your overall content. Following best image practices for your website is also essential.
You can get pictures taken for your website. Professional photographers can provide you with amazing images. However, if you don't have a high budget for images, you can benefit from stock photos. Photo agencies offer high-quality images for very low prices.
2. Assess through A/B Testing
A/B testing refers to a testing method where two variants of a webpage are shown to random users. Their reaction to these variants helps in determining which variable performs better.
A/B testing tells you about the impact of various elements on your website. It's difficult to predict which aspect of your site could be the reason for higher conversions.
Test the layout, font, color, and other elements through A/B testing. Assess through variables, such as length of text, image quality, font, background color, etc.
3. Integrate Live Chat
Most people are impatient and want answers to their queries right away.
Take advantage of technology and add a live chat option where you can cater to audiences' queries there and then.
Generally, the live chat option is referred to as smart chatbots. Brands feed answers to frequently asked questions. When a user lands on the website, a pop-up opens. Users can ask questions and get assistance without having to wait.
Live chat fosters communication and increases the reliability of your webpage, resulting in better conversions.
4. Make Your CTA easy-to-understand
Call to action (CTA) are the phrases that tell your audiences about how they can engage with you. It needs to be written in simple language with a clear message.
Users land on the website because their search matched your content. Still, many people feel hesitant in making the purchase.
It helps hesitant customers decide in your favor. Learn about your target audiences and create your CTA as per their needs.
Check the Show Academy ad below which states a simple sentence in the beginning:
Not next week, not tomorrow, Now!
It depicts customers' hesitation and compels them to sign up for the course right away.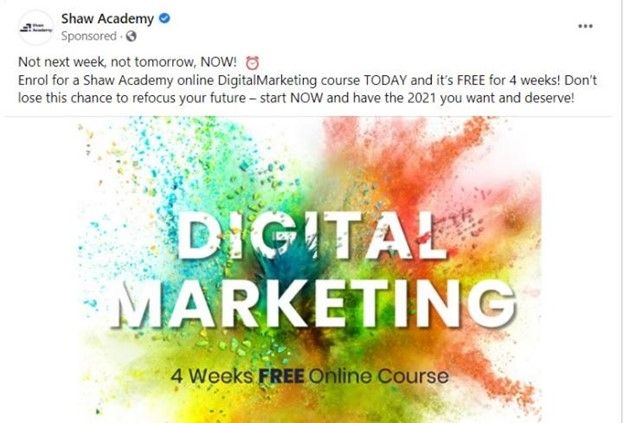 CTA pushes users down the sales funnel and makes them buy your product.
5. Ensure that Your Website Is Mobile-friendly
How many users do you know switch on a desktop or laptop every time they have to search for something? Very few!
Today, people carry a miniature computer like smartphone in their pockets and consider opening a computer a hassle. The number of mobile users is on the constant rise ad mobile-friendly websites attract people like a magnet.
Optimize your website and make it mobile-friendly. Ensure that your website does not take more than 1 to 2 seconds to load. The competition in the modern world is stiff and users are likely to bounce if your website doesn't load instantly.
6. Create Unique Content
The phrase 'content is king' may sound cliché, but it is true.
Users may come to the webpage because of lively photos or attractive thumbnails. However, what makes them stay and check the website out is the content.
Your target is to increase your website conversion rate. You have to think out of the box and create something different from the run of the mill stuff.
The Internet is full of information, and devising something special can be challenging. Do not hesitate to be innovative and bring new things to the table.
Offer something unique to your readers. Take a different angle on your niche from others. If others provide information about certain products, you take it a step further and talk about their applications.
One-of-a-kind of content will drive the users to your website.
7. Steer Clear of Distractions
The images, content, or doodles on your website that do not serve any purpose are all distractions.
Remember, you want users to focus on your product or service. Only then can you derive the desired action.
Revisit your website and scrutinize it. There might be some items that can steer users in other directions.
Also, understand that extra information or complicated procedures to place a simple order are distractions.
Instead of integrating an elaborated menu, add a shrunk one. Remove sidebars and headers.
Although images add warmth to the website, unnecessary photos can take users' attention away.
For instance, Arngren's website looks cluttered.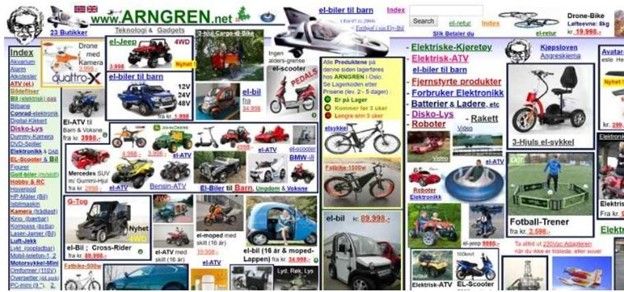 Make your website simple and remove distractions.
8. Include Customers' Reviews
Most people consider a website with no reviews a red flag. They do not want to be the first to use the product or service.
Highlight testimonials and reviews. Let your potential customers know that you have established a reputation.
Social proofs help in winning customers' confidence. If you can add a photo of the reviewer, all the better.
According to a survey conducted, 93% of participants confessed that they purchased the influence of reviews.
Testimonials or reviews help customers decide in your favor; consequently, your conversion rate goes up.
9. Run a Competitor Analysis
Keep an eye on your competitors. It helps you gauge your position in the market. Also, you realize the techniques your competitors are using to attract customers.
To put it simply, higher website conversion rates mean more business. It puts you out in front of your audience and grabs their attention. Examine your competitors' websites to see if they're using some unusual strategies that you're not aware of.
Running competitor analysis will help determine your areas that need improvement. You can take this opportunity and work on these areas to make them your strength.
Final Words
Enhancing website conversion rate has become crucial to success in the online world. The competition in the market is fierce. Higher conversion rates indicate that your website has everything in place.
It also leads to greater business. You must adopt the latest techniques to make an attractive website with the right content that helps boost your conversions.
By incorporating the above techniques, you can add more value to your audience. You need to put in a lot of effort to get the desired results but it is totally worthwhile. Good Luck!