Guest Blog - My Business Journey. Pursuing my passion for artisan handcrafted jewellery
Posted on
Guest Blog - My business journey - pursuing my passion for artisan handcrafted jewellery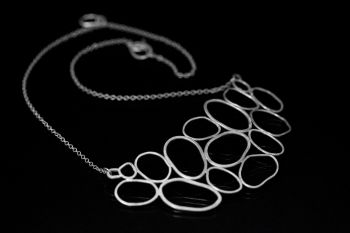 A guest blog on the journey to pursuing your passion from Angela Benjamin, founder of AngeB Designs - designer and creator of stunning artisan jewellery.
Creativity has always been my passion...
As a child, I was always making things and made my first 'handbag' at the age of 6! I studied science A levels whilst also attending A level art classes but in those days only 3 A 's were allowed and my parents wanted me do "something medical", so sadly art was dropped and I ended up studying physiotherapy.
After 6 years working in the NHS, I left London and moved to Scotland for a year, to study for a Master's degree in Sports Medicine at Glasgow University. My plan then was to return to London and maybe work for a sports team or sports shoe company but I found myself working in a small private Hospital, where after 4 years I became head of the physiotherapy department.
I really enjoy being a physiotherapist, the interaction with patients and making a difference in their health and ultimately their lives can be really gratifying but I would never say my job was my passion. I still had this longing to be a maker.
Taking a break made me take the plunge...
In 2009, after a brief sabbatical where I worked in Tanzania in an orphanage school for two months, I came home with a 'now or never' attitude. I decided to take the leap and after doing a BTEC in Art & Design at a local college, got a place at Chelsea Art School in London, where I studied part-time (whilst still working full-time as a physiotherapist) for a foundation diploma. The plan was to go back to university and do a degree in Architecture - something I'd always dreamt of doing. Being at art school was an amazing experience, despite being at least 20 years older than the majority of my class mates!

I think hanging out with 'the kids' as I called them, helped me tap into a more fearless, more carefree way of thinking. However, the potential cost of a further seven years of study combined with trying to pay a mortgage meant that my dream career was not a realistic goal at that stage in my life. I was lucky enough to have some very encouraging art school tutors, who saw how much I loved design and 3-D making. They
recommended I pursued other avenues to satisfy my creative bug and assured me that I didn't need a degree to be a maker.
You don't need all the qualifications to pursue your dream if you have talent..
After enrolling in a local adult education jewellery course and making my first silver ring, I was hooked! I immediately bought some basic pieces of equipment, so that I could continue making at home. I initially made jewellery for myself and when I started to get compliments from friends and family, I gave pieces away. Pretty soon I had more rings than I could wear and a friend suggested that I tried selling at a local market. Although I didn't sell very much at my first market, I got some great feedback and discovered that just like in my 'day job' I enjoyed the interaction with my customers.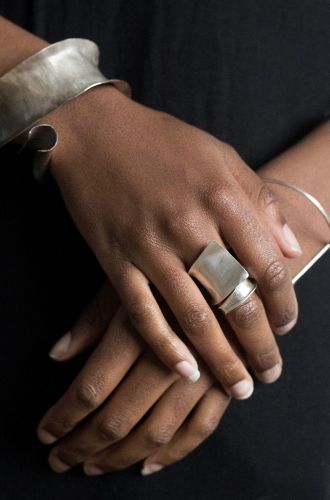 In 2016, another friend told me about Etsy, very kindly designed my brand logo and in true Ange-style, I jumped in with both feet! Before I knew it, I was listing my jewellery and making my own packaging. I can still remember the excitement of my first sale - it was one of my statement rings ( still a best seller) which was bought by a lady in the USA. I was amazed that someone on the other side of the world wanted to buy something I'd made, without even trying it on!
I continued to sell locally at art markets and it was through one such event that I was lucky enough to meet a buyer for Brand Academy, a gift shop based in the OXO Tower on London's Southbank. They wanted to stock a small selection of my work. This has been a great outlet, as it's given my work exposure to a wider market. An example of this, was a lovely lady who was visiting London from Ireland and bought a couple of items of my jewellery from Brand Academy. A few months later, she then contacted me via my Facebook page to say she'd seen another ring in the shop that she also wanted to purchase.
I was heading to the store to drop off new stock so was able to pick up the ring and post it to her, but it was that situation that prompted me to launch my own website.
It's been two years since I opened my self-built website and it's slowly taking traction. It's been a massive learning curve from where I started with my Etsy shop. There is so much more I need to know about the back-end of online selling but I feel I have more autonomy with my own site. In April of last year, I took a massive step for my business and started running my own one-to-one jewellery making classes from my little garden workshop. I don't have a teaching qualification, so 'imposter syndrome' has been something else to battle with but I'm loving this new side to my little business and I'm looking forward to expanding my classes to teaching small group sessions later on this year.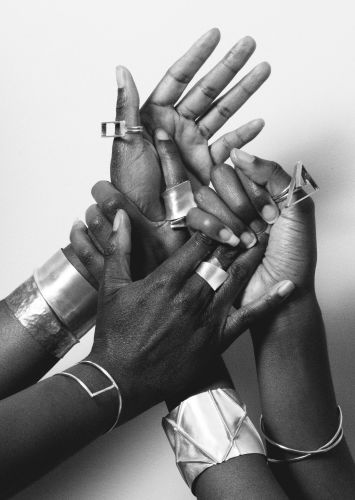 I still work four days a week as a self-employed physiotherapist, which involves early morning and late evening clinics, as well as home visits. I make jewellery and do the admin side of my business wherever I can find time. Outside of the actual making process, I try to dedicate an hour a day to admin tasks e.g social media, SEO, stock management etc.

Since joining the SEO Facebook group in December of 2019, not only has my knowledge of managing an online business grown, but I've also see a massive increase in visitors to my website, had an increase in bookings for my workshops and even had interest from an independent boutique regarding stocking my jewellery!

I'm reasonably organised so I rarely get too stressed and although there are ups and downs to running a small business alongside another job, I'm enjoying the journey and excited to see where my business will be in the next year!
...........
You can view and purchase Ange's work by visiting her website www.angebdesigns.com