#ReasonsIStarted - How this Innovative Entrepreneur Built a Business from her Love of crochet
Posted on

Foreword from Pamela
This series of amazing stories from fiercely feminine entrepreneurs documents the journey of some inspirational women who have founded and built incredible brands. These are stories of reinvention, stories of unlocking creativity and pivoting during the pandemic and managing adversity to demonstrate their passion and commitment to building a future legacy.
The next in the series is the amazing Kelly who started her entrepreneurial journey 5 years ago after the birth of her son. Since then Kelly has adapted, innovated and expanded her offering as she has grown her crochet business...
The Reasons I Started The Cool Crochet Society
I wasn't supposed to start a business, it was never the plan. Yet 5 years later here I am with a pattern store, membership and my own line of crochet clothing and accessories
It started 6 months after my son was born. I was just starting back at work as an ecologist and the reality of nursery fees had just hit me square in the face - I mean everyone told me that childcare would be expensive, but I never realised it would be THAT expensive. We were barely making ends meet, if making them meet at all, so I was looking for ways to make a bit of extra cash.
So I thought I'd try to sell some of my crochet.
I'd been crocheting for years at that point and just made things where I'd found a pattern I liked. I wasn't into making any particular type of thing, but I'd had a fair few compliments on how good my things looked. So I was sure that what I'd made would be of good enough quality to sell, and some of the patterns I had in mind were just super cute and practical so they were bound to sell right?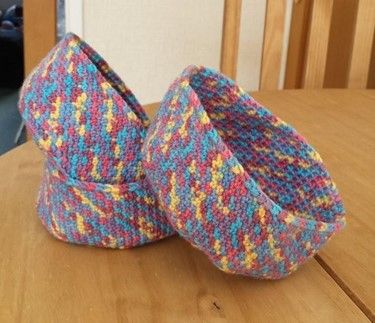 I chose some funky coloured yarn - something that was a bit different and eye catching. I chose a decent brand too, none of that cheap pound shop stuff and decided to make some mini storage baskets. Pretty and practical is sure to sell, who doesn't want something unique, pretty and useful. But where to sell them?
I knew ebay wouldn't be a good place to sell something handmade I wanted to get a decent price for, so after a quick Google search I found Etsy. I got my first product listed (with virtually no research or reading through the handbook - what a mistake!) then sat back and waited for the sale. And waited and waited.
Nothing
I started Googling reasons why I wasn't selling anything, never mind actually getting people to look at my listing. This led me to setting up a Facebook page, then networking groups, then how to take proper photos, then the importance of writing proper descriptions, and so it went on.
After 3 months I got my first sale, but it came at the expense of dropping my prices too low. I was excited, but disappointed. This wasn't going to generate the extra cash I was hoping for at this rate.
But by this time I had got the bug, I was hooked on this business thing that I never planned to do. My business gave me an identity outside of being a mum. It was something I had control over in a new world where I didn't feel in control at all. So on I went, growing my audience and learning more and more about running a business. My sales slowly increased and I started to add more listings and options.
But it wasn't a business, not really. After 3 years it was just a hobby that gave me enough cash to buy more yarn. I just sell at prices that reflected my time or skill. The truth is it's really hard to sell crochet pieces, especially in the UK as its just not valued. There are plenty of people willing to sell at prices to cover their next projects worth of yarn, so it's difficult to get across the value of my work.
It was starting to feel like a big chore that wasn't bringing the needed rewards.
So I stopped
Most of what I was selling I was creating my own patterns for, so why not sell the patterns instead? After all once I'd written the pattern, I could sell it over and over again. I could profit from one piece of work for years to come. This sounded so much easier, I had just been too stubborn to change direction until then.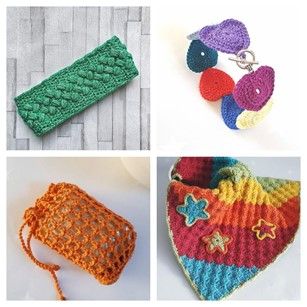 I pivoted my business, I rebranded to The Cool Crochet Society and set out on my new venture.
And I'm so glad I did. I enjoy things so much more now and I'm finally making a profit. Even though I started my business journey 5 years ago, it feels like I'm only just getting started.
I'm now building a business that will not only bring me that extra cash I needed all that time ago, but will go beyond that and give me a bigger income than the day job.
I now have a library of patterns that I can keep selling over and over, I've hosted 2 successful crochet alongs, I've just launched my membership to help crocheters discover more advanced techniques and tricks and I've got my own range of crochet clothing and accessories.
The next challenge is to work out how to promote all my services to a wider audience and get my website working harder for me. But it's nothing I can't master.